i've been continuing with my exploration of slow pace blues and funk keys. i have also been soaking up old funk records (including the inimitable mr. brown) in conjunction with dark electro. what vibes will emerge by the time the track is finished? who knows …
i have reached the point where i have some nice picky wah wah and funky bass lines. i found some lovely chords which sound great when played thru the rhodes … but at this point there is always the risk of chord progressions becoming cheezy. i push forward trying to make sure i don't just create another derivative dance tune.
i watched a curious movie last week, called the signal. it's a low-budget thriller with average joes spewing blood in a pseudo-zombie apocalypse. the premise is that some mysterious tv transmission makes folk "get the crazy" before killing each other with whatever comes to hand.
this might sound like your typical b-movie trash. however, as the film progresses, there are moments of dark comedy, amusing characters and clever (but simple) twists. i thought it was pretty cool by the end. it just goes to show how you can take a plot that's been done to death and still make something out of it. i like how the dude in the picture below met his end … watchez-vous the movie to find out …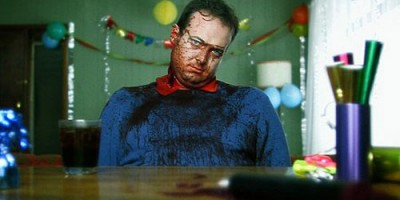 i also watched the ipcress file. i'd not seen this since i sampled it many years ago, whilst making some silly techno for my 6th form common room. it's basically the antithesis of bond, but made by the same people.
the score is enhanced by john barry's enigmatic zither and jazzy flute chorus. the radiophonic torture fx are indeed painful, as michael caine demonstrates by almost acting his face clean off. i love the music, and the darker side to 60s espionage: a gritty london of peeling paint and sooty stonework. martinis are neither shaken nor stirred; there are no casinos, and harry palmer drives around in a ford zodiac (or perhaps zephyr or summink). i love it, but it doesn't stop me loving octopussy too …