i finally managed to get the first cut of my new track meat street dog star up into the cloud. i'm pretty happy with the content, but it still needs some tweaks and a vocal line.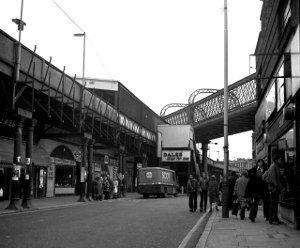 the track is a dubtronica groove – by which i mean it has big sub-bass, delays, weird fx and synth mayhem.
it's loosely based on fond memories of brixton, sniffing around atlantic road and electric lane. it starts off using some weedy bit-pop samples from an ancient computer and ends up being a swirling mass of distorted moog. which i love.
the next couple of weeks will be spent smoothing out the wrinkles and generally beefing it up a bit. this will only happen when i can face returning to the studio after the trauma caused by the pc, which has been breaking half my instruments and generally ruining the mix at unpredictable moments

i guess that embedded in the production is some yearning for simplicity, in terms of analog synths that just work out of the box, and computers with no operating systems or software updates. all that, building up into a frustrated wall of sound …
still – hope you like this work in progress!