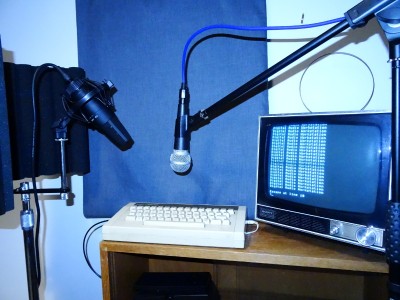 i have been having so many problems with the latest updates to the studio DAW that i decided to simplify the situation a bit. above shows the new system – it never crashes and it never needs a software upgrade.
not really. this actually represents a test setup for the next project – a 1984 acorn electron connected to a beautiful 1970s Sony television. the internal speaker of the electron is picked up by the mic arrangement for some vintage 8-bit sound vandalism. there is no audio output, so it's back to old skool mic technique

the current project (codename dirty donkey) is progressing slowly, and the first demo will be stuck up the cloud when the 2015 DAW stops crashing. i have spent the last week or two trying to sort this out, but if it goes on much longer, Red Six Studios may need to experience The Return Of The Mac, in the most literal sense.
my website is undergoing some aesthetic changes at the moment – something a bit more sleek should emerge in the next couple of weeks. you will be able to listen to releases and demos direct from the site – but most of the "action" still happens here on the blog.
in general, i'm thinking of starting a campaign to reduce the frequency of software updates – i'm not yet convinced that "little and often" actually benefits the world of technology from a customer's perspective. it seems like there is a generation of developers breaking more than they fix.
i frequently need to update software (on a daily basis) before i can use much of my equipment. recent examples include the 5 hour doomsday of the Windows 10 November Update, three iOS updates to my three apple devices in one week, and the latest PS3 update which now means the console fails to detect my network drive (it's ok though, there is a big fat spotify app in its place).
#LessOften please …